This page helps you with tips and advice on grooming your Teacup Yorkie.
Note that these dogs are also known as either miniature Yorkshire Terriers, Teacup Yorkshire Terriers, mini Yorkies, micro Yorkies or Toy Yorkies.
To groom at home, you will need a soft brush and wide-toothed comb. Start at your dog's head and work through his coat to remove any tangles before they become knots.
It is essential that this is done every day for a long-haired Yorkie, which is why so many people keep their dog short coated.
The skin of a tiny Yorkie is very fine and can become sore, so be sure to go gently. If your dog expects pulled hair, he will not want to be groomed for long. Stop regularly and give him a tiny treat; this will keep him happy and relaxed.
Don't brush your Yorkie's coat when it is completely dry, and do not use a natural bristle brush. It is always best to lightly mist or damp the coat first to prevent the fine hairs breaking.
Take extra care to check the hair around his ears and anus area, for these are often the first to knot up.
I sometimes cut knots from Penny rather than pull on them as it's easier on her and it saves her showing me her tiny teeth (or those she has left after dental surgery when she arrived).
You can buy nail clippers, but one thing to know is that a dog's quick grows right into his nail, which is fine for clear toenails because you can see it but not so useful for black ones.
If you choose to cut your dog's nails at home, then always just nip off the end otherwise you could hurt him and he will never let you near his feet again. The best time to clip the nails is after the bath when the nails are softened.
Bathing a Yorkie is usually pretty easy. I use baby shampoo for Penny and this or a very gentle adult shampoo is fine, or special dog shampoo. They will need bathing regularly due to being unable to shed their coat, which hangs onto all the dirt. Penny has a bath once a month.
It is an amusing activity because a soaking wet Yorkie looks very different without his fluff.
Make sure to keep the hair on the top third of the earflaps trimmed very short in an inverted v shape front and back, otherwise the ears will droop due to the excessive weight.
Want to know even more – take a look at my Micro Yorkie book…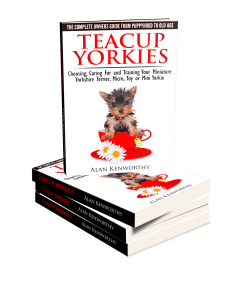 Here is a video of a very angry teacup yorkie at the dog groomer:
Keep coming back here – we will be shortly expanding this page to include information on: haircuts, styles, styling, care, bathing, accessories for grooming, combing, cleaning, dental and puppy potty training.